Animal Rescue: Westchester, NY | Rescue, Adoption, Sanctuary
Rescue Right is a Dog & Cat Rescue, Adoption & Sanctuary facility located in Bedford NY.
Rescue Right / Community Cats is a 501(c) (3) non-profit corporation dedicated to all aspects of animal rescue in New York's northern Westchester County.
Please Donate!
Here is a link to
the Photo Gallery
on our Facebook page
with the current
Cats and Dogs
that are available
Take a look!
We specialize in trap, neuter and return of feral cats, kitten and adult cat rescue and adoption and home-to-home placement of family pets.
As northern Westchester's only cat rescue organization, we find homes for hundreds of kittens, adult cats & dogs each year.
Donate a
Kuranda bed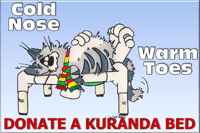 Click Here to Donate Now…